Fathers Day Gift Guide – Health and Fitness

Father's Day Gift Guide – Health and Fitness
USE OUR WOMEN'S WORLD CUP DISCOUNT CODE: WWC19 ( Click here for details)
Father's Day is just around the corner and Dads can be very difficult to buy for. With more and more people picking up physical exercise as a hobby or way of releasing energy, why not treat Dad to something health and fitness related.  We have put together a guide to buying the perfect gift.
---
TLC Time
Sometimes Dads can neglect themselves, taking care of their family first. This Father's Day, treat your dad to a bit of relaxation time. Let him put his feet up, have a cuppa and have some 'me' time. ( May include a furry friend). Giving the gift of relaxation could really help Dads mental and physical health, which might be just the gift Dad really needed.
Another good way to relax is to get rid of all those knots accumulated in your body. Massages are a great way to relive all the tightness and pain caused by this. Professional massages are brilliant but can be time consuming and expensive. Alternatively, our massage roller can be used in the comfort of your own home or workplace, Providing relaxation when it's needed.
JLL Massage Roller
Was £15.99
Now £8.99
Spa days are not just for women and can be the most amazing experience. Spa's are a brilliant gift as, although you are having a day out, its a day to rest and recharge. Sometimes having someone else massage your body and spending time with someone special is exactly what is needed.
Spa Seekers Spa day
From £25
Working at a desk can really leave you feeling sore and in need of better posture. Using a wobble cushion can help improve posture and in turn, help back pain.  They are also a comfortable alternative to a normal cushion.
Wobble Cushion
£6.99
---
Muscles
No matter your Dads age, there is a weight set for him. Weights can be used as a way to gain strength in muscles but also smaller weights can be used to help recover from injuries. Whatever your dad's needs we have him covered.
JLL Fitness PU Dumbbells
Starting from £14.99
Our ankle weights are perfect for those who want to use them in multipurpose ways. These weights aren't just for ankles though, they can be used elsewhere such as on wrists.
JLL Fitness Ankle Weights
From £5.99
Do you always wind Dad up? Maybe a slam ball could be just the present for him from you. Take your frustration out in a safe and sensible way by using a slam ball so therefore you can continue to wind him up. 
Slam Balls
From £11.99
---
Skin Care
Men often have a negative concept of skin care and can see it as pointless to take an interest in it. There are so many benefits for adding a skin care routine to your day, from keeping spots at bay to reducing your risk of skin cancer. Invest in skincare for your Dad and have him looking his best for years to come.
A set is a great way to start as they have all the basics to start them off on a journey to better skin. The set from Clinique looks more professional than a Lynx set and does more good so hopefully, Dad will be pleased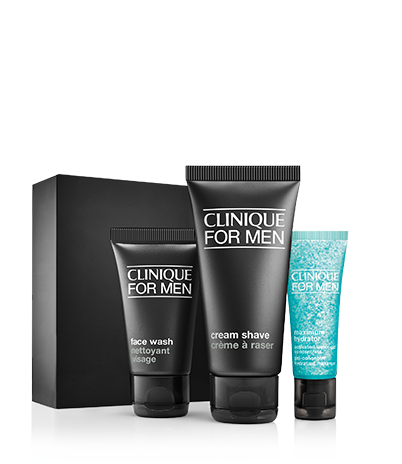 Clinique For Men Starter Set
£12.00
Alternatively buying individual products might be a better option, giving you the ability to spend more but get the right products for him.
The Ordinary brand of skin care is a great affordable range to buy from, but you may have to read and research which products are going to be useful for Dad.
The Ordinary
From £2.75
---
USE OUR WOMEN'S WORLD CUP DISCOUNT CODE: WWC19 ( Click here for details)
The following two tabs change content below.
Graphic Design Assistant for JLL Fitness. Interests: Photography, Fitness, Design, Marketing, Illustration, Colours and Exercise.
Latest posts by Katie Bowden (see all)